Park(ing) Day Jalan Besar 2014 was a community design project organised by Sutdio (SUTD's Architecture, Art and Design Community) and COLOURS: Collectively Ours (a design consultancy) on the 19th of September 2014. This project event was part of a worldwide attempt started by Rebar in San Francisco to reclaim spaces for the public and improve communities by converting parking lots into miniature parking lot-sized parks for a day annually.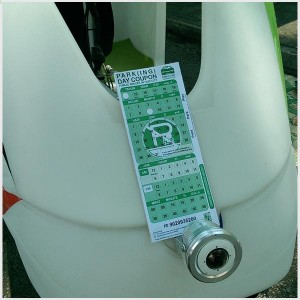 Supported by Singapore's Urban Redevelopment Authority (URA) and the Housing Development Board (HDB), parking lots under their management were offered to participants who showcased a variety of interesting and entertaining displays from outdoor furniture and performances to electric vehicles that were open to the public to interact with. Participants were given a unique carpark ticket to display at their parking lots by the URA PubliCity SG team.
We at Innoverde did our part in supporting Park(ing) Day by working together with COLOURS to realise their outdoor modular furniture concept – 'Flex', using our new building and construction material, MultiPanel.
MultiPanel, being an eco-friendly, lightweight, 100% waterproof and strong, high density poly-urethane construction panel, was perfect for the fabrication of Flex. MultiPanel enabled CO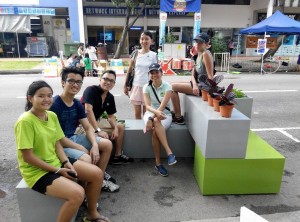 LOURS to achieve its vision for Flex to be light enough for members of the community to reconfigure its modular pieces easily and still be strong and durable enough to weather outdoor environments. In addition, every modular piece comes with a fully functional planter box to cultivate a sense of ownership among the members of the community that use it and to spur "greening" of urban areas around Singapore. Throughout the event, we played around with the display's configurations by rearranging the modular pieces, and were encouraged to see the different ways that the public could use Flex. While some used Flex as a place to rest their weary feet and chit-chat with friends, others used it as a place to have a meal or to park their bikes.       
Other than our collaboration project with the event organiser, Innoverde had our own parking lot where we displayed our E-Trike. The E-Trike is a pedal-assisted electric tricycle that is powered by clean energy generated by our EFOY Fuel Cell which is 100% reliable, off-grid and quiet. Coupled with solar panels, one fuel cartridge can last for more than 1,500km.
Many passersby were drawn to the striking E-Trike. Although shy at first, most were excited to give the E-Trike a ride around the carpark and were impressed by not only the power of the pedal assistance but also intrigued by how the EFOY Fuel Cell powers the 180 degree camera mounted on the front and the wifi system of which it is connected to as well; the system enables the camera feed to be remotely viewed and captured. Of course, taking selfies with it remotely with an iPad, was a must.
As the sun set, we were tired and sun burnt. Nevertheless, we enjoyed the interactions with members of the public and discussing how our green innovations could do so much more than what we showcased. Park(ing) Day is a great initiative and, albeit the sun and weather, we enjoyed it very much.  We look forward to participating in more of such events and will definitely remember to bring sunblock the next time round.
Missed the event? Check this video out ! (Video credit : TODAY ONLINE)

For anyone who is interested in collaborating with us, renting the e-trike or just want to say hello, please do not hesitate to contact us at this link!
Visit our gallery for more photos of the event or follow us on Facebook for updates.