How It Works
The EFOY COMFORT charges the on-board battery fully automatically. The integrated charge controller permanently monitors the charge level of the 12 V battery. If necessary, the EFOY COMFORT is automatically started and switched off again once the battery is charged. With an inverter, you can also use 230 V devices.

The EFOY COMFORT produces electricity using the fuel in the fuel cartridge, adding oxygen from air. In addition to electricity, it only produces waste heat and water vapour containing an insignificant amount of carbon dioxide.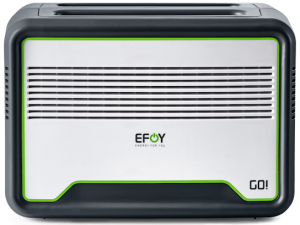 EFOY GO ! is a smart battery. With an integrated inverter and four power connectors, you also have convenient power  – plug and play – away from the grid. Whether for a smartphone, a camera or a cool box, the compact, lightweight EFOY GO ! uses state of the art lithium technology to deliver ultimate power with the smallest of dimensions. Ideal for your outdoor adventure!
You can easily use your electronic devices – plug & play – when you're on the road.
EFOY COMFORT and EFOY GO !
Need more power for holidays, trips or stays in your boat or yacht? Then combine the EFOY GO ! with EFOY COMFORT Fuel cell for non-stop power.
The EFOY COMFORT fuel cell plus the EFOY GO ! combines the best environment-friendly technologies in one solution. Whilst the EFOY GO ! provides a portable socket, the EFOY COMFORT delivers automatic charging.